CD and DVD Duplication Services
For the quickest turn around on the Mid North Coast With (no minimum) of DVDs,  Port Media is Located in Kendall 25 Minutes south of  Port Macquarie , we recommend utilising our DVD Duplication (Burning) service, combining premium quality with rapid turnaround. We operate a large DVD Duplication system enhanced by High Quality Inject  printing to produce perfect DVDs. .
HDD Controlled Multi Disc Duplicator
For smaller duplication runs of up to 500 DVDs: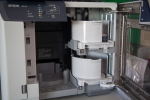 •Quick turnaround
•Dual layer DVDs record up to 8.5Gb
•High resolution black or CMYK (5-colour) UV Cured Inkjet
•DVD Labels printed directly onto the DVD, generated from digital artwork (no film/plates set up required)
•Fulfilment and lodging with Australia Post
Pricing For Disc Production Services.
Disc production from Supplied Disc Images.
---
Disc Options
0 – 200 – Disc Production Pricing
DVD -R 4.7GB .. Label Non Printable Surface – No Printing – Paper Sleeve Delivery – 3.50 per disc
---
---
Disc Options
+ Glossy Printable Surface Disc 4.7GB DVD Disc + 1.85 per Disc
+ D/L Matte Printable  Suface Disc  + 1.50 Per Disc
Cover Options
+ 9mm Plastic DVD Cover  + 1.25 no Printed Insert
+14mm Plastic DVD Cover + 1.65 no Printed Insert
Paper Insert Options
+ 80 gms Paper DVD Laser Printed Insert .90 per sheet
+ 160 gms Paper DVD Laser Printed Insert 1.20 per sheet
---
200 – 500 Disc Production Pricing
DVD -R 4.7GB .. Label Non Printable Surface – No Printing – Paper Sleeve Delivery – 2.80 per disc
DVD -R 4.7Gb .. Label Matte Surface Printable  No Printing [ Paper Sleeve –  3.85  per disc
DVD -R 4.7GB .. Label Matte Surface Printable Simple Label Printed (Text Only) – Paper Sleeve 4.20 per disc
DVD -R 4.7Gb .. Label Matte Surface Printable Full Face Graphics Paper Sleeve 4.55 per Disc
Disc Options
+ Glossy Printable Surface Disc 4.7GB DVD Disc + 1.75 per Disc
+ D/L Matte Printable  Suface Disc  + 1.45 Per Disc
Cover Options
+ 9mm Plastic DVD Cover  + 1.15 no Printed Insert
+14mm Plastic DVD Cover + 1.55 no Printed Insert
Paper Insert Options
+ 80 gms Paper DVD Laser Printed Insert . 85c per sheet
+ 160 gms Paper DVD Laser Printed Insert 1.15c per sheet